Nana McQueen
Talk

0
159pages on
this wiki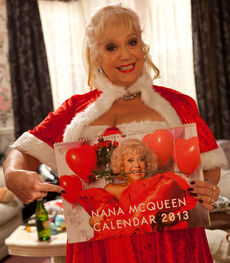 Marlena "Nana" McQueen, played by Diane Langton, first appeared in July. Since her first appearance, Nana made further appearances in 2007 before returning in 2008 and again departing in 2009. Nana returned in 2012 on a recurring basis. Nana is part of the McQueen family.
Nana was first seen in July 2007 when flirting with Russ Owen (Stuart Manning) at The Dog in the Pond. She entered the McQueens' house to find her granddaughters fighting. When the rest of the McQueens got back she saw Russ and claimed he was chatting her up at The Dog. Nana reappeared in October 2007 when Carmel McQueen (Gemma Merna) and John Paul McQueen (James Sutton) nearly died from carbon monoxide poisoning. She stirred up trouble by lying to Mercedes McQueen (Jennifer Metcalfe) that she had seen Carmel and Russ kiss at the hospital. Myra McQueen (Nicole Barber-Lane) tried to get along with her, but after she realised Nana had tried to steal the compensation money the family had received for Carmel and John Paul, Myra threw her out. Nana reminded Myra that she was her mother, but Myra said that she had stopped being her mother at the age of 14. Nana said she would be back, and then left. Nana returned for the family's Christmas and Boxing Day celebrations. Neither she nor the rest of the family realised their guest, Niall Rafferty (Barry Sloane), was the son Nana had forced Myra to give up at birth. During the dinner, Nana toasted Tina McQueen (Leah Hackett) for being a surrogate for Jacqui McQueen (Claire Cooper) and her boyfriend Tony Hutchinson(Nick Pickard). Myra got upset and left the table. Nana found her in the bathroom, weeping over old newspaper clippings of the child she had given up at birth. Myra told her mother she could never forgive her, or herself. Nana told her to quit complaining and that she had been right to give up the child. Myra slapped her and Nana slapped her back, leaving as she refused to be treated in such a manner.
In February 2008, Nana returned after Myra was arrested for benefit fraud. After having an argument with Myra she went to The Dog with Niall where she got drunk and confessed to Niall that she forced Myra to give up her son aged 14. In revenge Niall attacked her and left her for dead. She was later found by her granddaughter Tina, and returned home the next day. Nana and the rest of the McQueens were at that point unaware that it was Niall that attacked her. In September 2008, it was revealed that she was on a cruise so she couldn't attend Carmel and Calvin Valentine's (Ricky Whittle) wedding. She returned in November 2008 for Tina's funeral. She was unimpressed with Jacqui and John Paul because they failed to attend the service. Nana mentioned that her daughter, Kathleen McQueen (Alison Burrows), is in prison. She also mentions that Kathleen's daughter,Theresa McQueen (Jorgie Porter), is living with her as a consequence. After arguing with Myra over Niall, Mercedes, threw her out. She returned later the same month when it emerged that Theresa had slept with Tony, who was unaware she was only 15. Nana revealed she used to pose for a Dutch artist whose house she used to clean. In 2009 it turned out that these pictures were worth quite a lot of money; unfortunately for the McQueens, Leila Roy (Lena Kaur) had painted over the canvas. In June 2010 Theresa was sent to stay with Nana but returned after a few weeks, saying she had a miserable time.
In the summer of 2012, Carmel left Hollyoaks for a few months to live with Nana after having an accident with a self-tanning machine leaving her with a very distinct scar. Nana returned to Hollyoaks in November 2012 to help Carmel with life in the village. She arranges for her to go on a date with Barney Harper-McBride (Tom Scurr), moving in with her daughter and grandchildren.